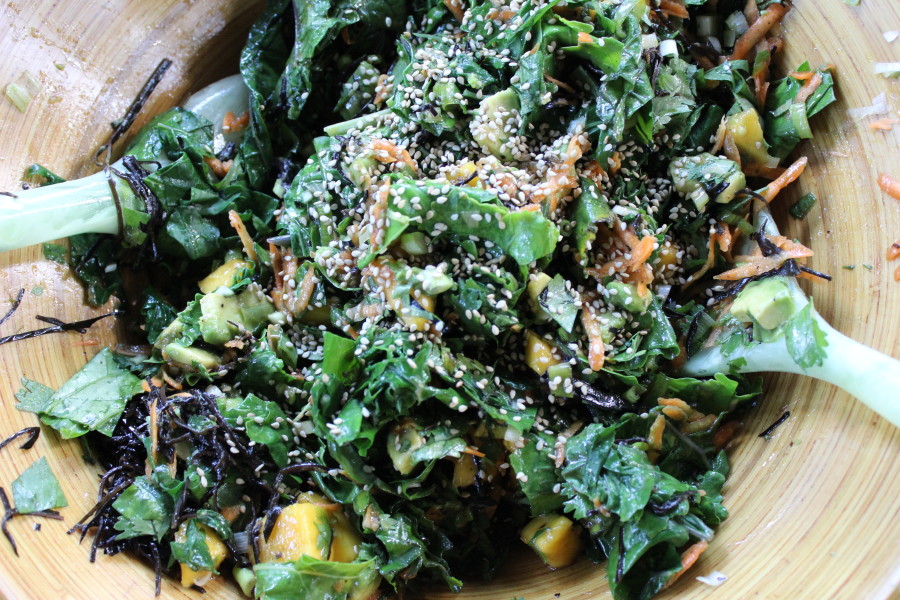 1 bunch kale
1/2 cup arame or hijiki (sea vegetables), rehydrated in plenty of filtered water for 30 plus minutes, at room temperature
1/2 cup grated carrot
4 scallions, chopped
1 avocado, chopped
1/2 bunch cilantro, chopped (leaves only)
1/3 cup dried cranberries, rehydrated in warm filtered water for 30 minutes
1/4 cup sesame seeds, lightly roasted
Dressing
1 T sesame oil
1 T toasted sesame oil
1 lemon, squeezed
1 T tamari
1 T mirin or honey
Salt, ground pepper
Rehydrate the arame or hijiki and the cranberries in water. No simmering or boiling is necessary. The cranberries are best with warmed water and the sea vegetables are fine with room temperature water.
Wash the kale and remove the soft leaves from the hard stem that runs up the center. Lightly chop the kale and then stir fry it very lightly in a wok or frying pan. A little water in the pan from the kale is fine. At this stage be careful not to overcook the kale. It will continue to cook when removed from the pan so allow for this. Let the kale cool.
Into a salad bowl add the rinsed arame or hijiki, the carrot, scallion, avocado, cilantro and cranberries. Add the kale when cooled. Toss generously with the dressing, it is okay if the avocado softens during this movement. Sprinkle the sesame seeds on top just before serving.
This salad is fine to sit with the dressing for a couple of hours in advance of a meal. The dressing can help to continue the softening of the kale and the flavor of the dressing will penetrate into the sea vegetable (arame or hijiki) and the land vegetables!
Enjoy the flavor and nutrition that is offered in leafy greens and mineral dense sea vegetables!
Namaste,
Sydney