Bring out the slow cooker! Before heading to work, or heading out to run errands. Put on a pot of soup and come home to a meal! Red lentils cook easily, and have a high nutrient density. This is a favorite in our home.
Credit for this recipe goes to the Moosewood Restaurants Cooks at Home cookbook. Using simple ingredients that are often in your kitchen makes this an easy choice, and you can make adaptions to suit your tastes as you come to know the recipe.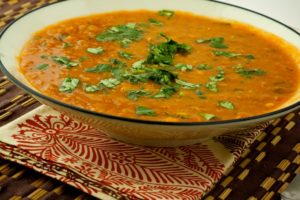 Photo from Spoon With Me
1 1/2 cups red lentils
7 cups water
3 bay leaves
1 clove garlic, chopped finely (optional)
2 slices of fresh ginger
2 carrots grated, measure 1 cup
1 cup diced tomatoes, fresh or tinned
1/2 cup diced pepper
1 1/2 cups chopped onions
2 Tablespoons ghee or coconut oil
1 1/2 teaspoons ground cumin
1 1/2 teaspoons ground coriander
1/8 teaspoon cayenne (or to taste)
3 cups leafy greens, chopped
2 Tablespoons fresh lemon juice
Salt, pepper to taste
Freshly chopped cilantro (optional)
Rinse the lentils in a sieve under running water. Add the lentils, bay leaves, garlic, and ginger to the pot or slow cooker. Turn on the heat. Bring to the boil.
While the lentils begin to cook, prepare the carrots, tomatoes and pepper. Add all at once to the pot or slow cooker.
If using a stove pot, bring to the boil and then reduce the heat to simmer.
Cook the onions over a medium with the ghee or oil. When the onions are translucent, add the spices. Stir for a moment.
If you are cooking on the stove top, then add the onion mixture after the lentils and vegetables cook 40 minutes. Simmer for a further 10 minutes then turn off the heat and let the soup sit.
If using a slow cooker, cook on low for 6-8 hours, or on high for 3-4 hours. Add the cooked onion combination to the slow cooker 30 minutes before the end of the cooking time.
Before adding any greens remove the ginger pieces and bay leaves. The leafy greens can then be added with the lemon juice, salt and pepper, just before serving.
This soup is an excellent leftover. The flavors of the spices mellow into the lentils and vegetables.
Makes 4-6 servings.
Yummy!