Each week I receive a blog update from Plant Powered Kitchen. The recipes are vegan creations by Dreena Burton. Now I must admit that I am a little partial to Dreena for more than her wonderful recipes – she lives in Vancouver (I am Canadian!).
Suggestions for recipe adaptations:
No roasted pumpkin seeds? It is best to dry roast yourself to assure care is taken in the roasting process. Roast at 300ºF for 15 minutes. Let cool before using. No jar of roasted peppers? Cook peppers on a gas stove top or in a high oven. Remove the skin when cool. No tomato paste on hand? Use thick tomato sauce. No green onions? Use white or red onion, diced finely. No time to refrigerate the mixture? Use an ice cream scoop and spoon to form the balls right after mixing to keep the heat of your hands from the mixture.
I made these Pumpkin Seed Poppers for a womens dinner. At the dinner we created zucchini pasta with a spiralizer, added homemade tomato sauce and the poppers.
Delicious. It was high vitality Mother Earth food!
Leftovers are wonderful with pretty much anything!
Thank you Dreena and your Plant Powered Kitchen.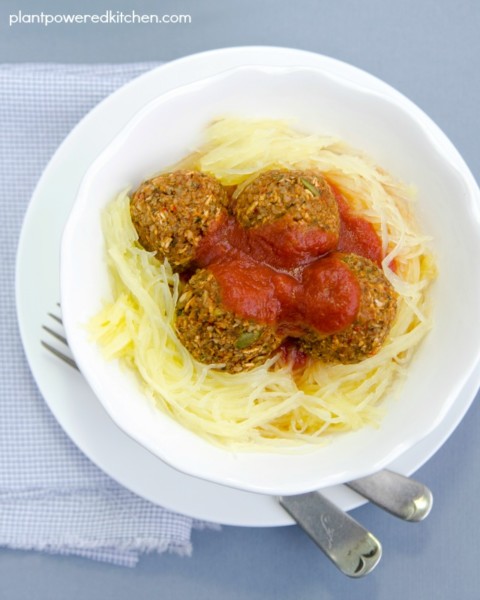 Photo Credit: Nicole Axworthy
1 cup precooked/cooled brown rice (or 1 cup packed, precooked/cooled quinoa)
1 cup roasted pumpkin seeds
1/2 cup (packed) roasted red peppers (can use jarred, just drain)
1 tbsp tomato paste
1/4-1/3 cup green onions
1 1/2 tbsp balsamic vinegar
1 medium glove garlic
1 tsp dried oregano
1 tsp dried basil
3/4 tsp sea salt
1/2 tsp blackstrap molasses
1/2 cup rolled oats
2 tbsp pumpkin seeds (to pulse in, optional)
In a food processor, add all ingredients except oats and 2 tbsp pumpkin seeds. Puree until well combined, scraping down the bowl as needed, add oats and pulse through several times to incorporate. Add the pumpkin seeds, and pulse in again, just to slightly incorporate but keep some texture.
If possible, refrigerate for about an hour.
When ready to bake, preheat oven to 375ºF. Take scoops of mixture (about 1 tbsp), and place on a baking sheet lined with parchment paper. Bake for 17-20 minutes, until golden or just warm to the touch (do not overbake, they will dry out).
Remove, and serve with pasta and tomato sauce, or with baked potatoes.
Makes 18-20 balls, serving 4-5.