Here it is, after many requests for this recipe. They are hearty, flavorful and full of texture.
Creating these bites involves zero skill. So hopefully that invites everyone who is reading this recipe to dive in and create these treats.
If you are interested in Almond Butter Bites some slight changes are noted at the bottom of the recipe.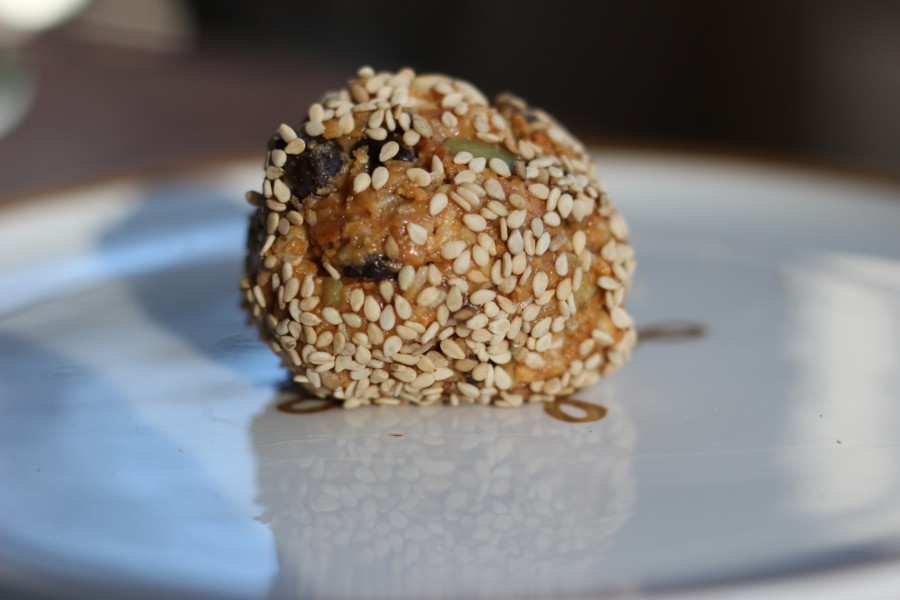 3/4 cup peanut butter (free of added sugar, oil or salt)
3 Tablespoons honey, liquid best
1/2 cup crisp rice cereal
2 Tablespoons chocolate chips
3 Tablespoons coconut
2 Tablespoons pumpkin seeds, lightly chopped
2 Tablespoons raisins, lightly chopped
1/4 cup sesame seeds
Combine the peanut butter, honey, rice cereal, chocolate chips, coconut, pumpkin seeds and raisins. Stir with a kitchen knife to thoroughly blend the peanut butter and honey with the other ingredients.
Form into balls with 2 spoons or with your hands. Roll in the sesame seeds.
That is it! These Energy Bites are fine to stay covered at room temperatures for several days. For longer preservation, store in a sealed container in the refrigerator.
Makes approximately 10 bites.
For Almond Butter Bites, follow all of the same ingredients and quantities except for 3/4 cup almond butter and 2/3 cup rice cereal.