This recipe is the creative genius of Dreena Burton. Dreena has published several vegan cookbooks. I am partial to Dreena and her creations for several reasons – her recipes taste great, her recipes are made with whole food ingredients, she ofter refers to her family in her writing (3 young girls), and she is Canadian!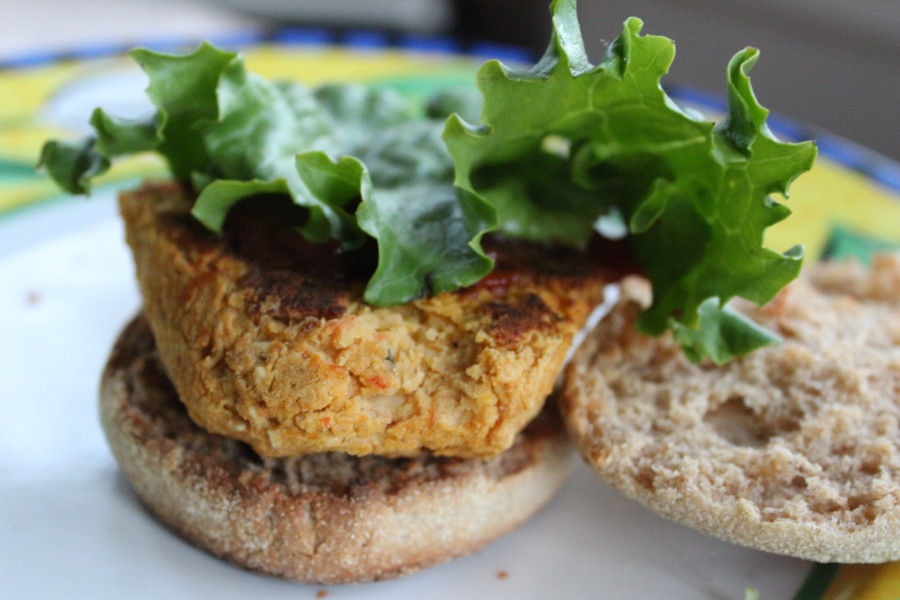 The Chickpea Burgers were a big surprise. When a hungry hockey playing teen asks for a second burger, I know that I have stumbled upon something worth repeating. This burger batter was easy to prepare. I am curious to try it as a finger food, with a light dip. And I am freezing a few burgers! Serve it up using an English Muffin for a bun, or go bunless, or use leafy green leaves (collard greens would be great) to eat the burger with your hands.
Note that the burger batter requires a 30 minute resting period in the refrigerator. This is essential, allowing the oatmeal to absorb some of the liquid and firm up the batter. These veggie burgers did not fall apart while we were eating them.
Nutritional Yeast may be a new food for you. I am still working on how to use it. Buy it at a good health food store, to ensure freshness. Hopefully they have it in the bulk aisle, and you can use your mothering Mother bulk bags! The nutritional yeast will add some flavor to the burgers, but nothing strong that stands out. It may feel a bit risky… but go ahead and give it a try!
Thank you Dreena Burton for this recipe! Easy to make, and delicious, its flavor and texture, together with its wholesomeness, kept all of us asking for more! (Some alterations have been made from the original recipe) Below is a mini Chickpea Burger with a dipping sauce. The perfect size for a finger food!
Chickpea Burgers
1 cup carrot, chopped
½ cup red pepper, chopped
1 large clove garlic, diced
3 cups chickpeas, completely drained (approximately 2-14 oz cans)
½ cup nutritional yeast (flakes)
1 T tomato paste, or ketchup
1 t sea salt
1 t red wine vinegar
½ t dijon mustard
1/2 t chipotle pepper
Freshly ground black pepper (optional)
1 t fresh thyme or rosemary leaves
1 cup rolled oats
1 t ghee butter or olive oil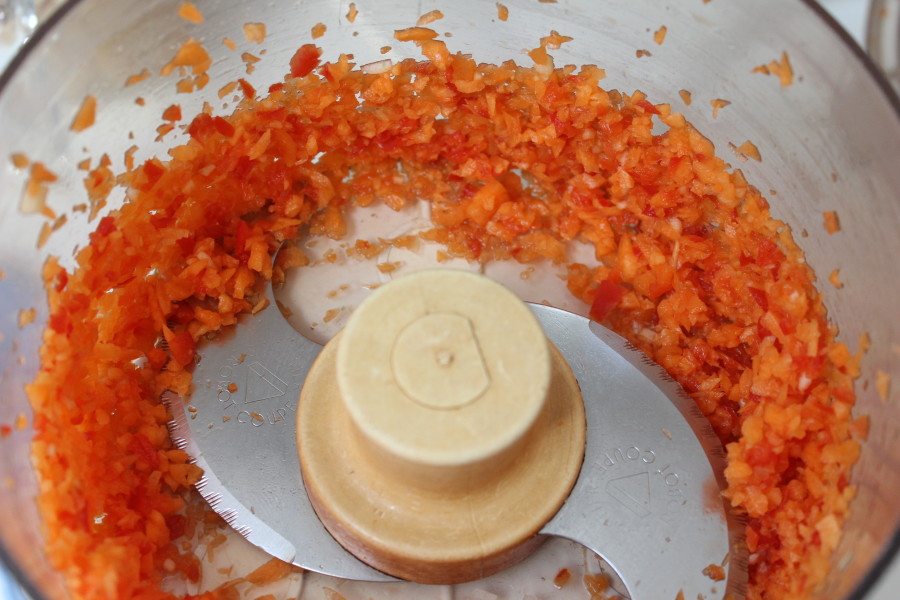 Blend the carrots, red pepper and garlic in the food processor. Process to mince finely.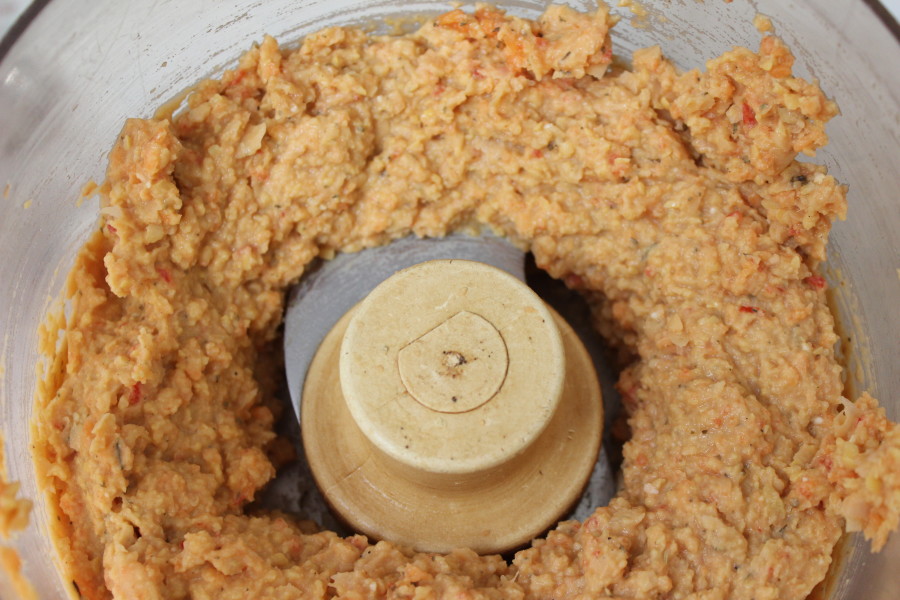 Add all remaining ingredients, except for the rolled oats. Process to completely blend all of the ingredients.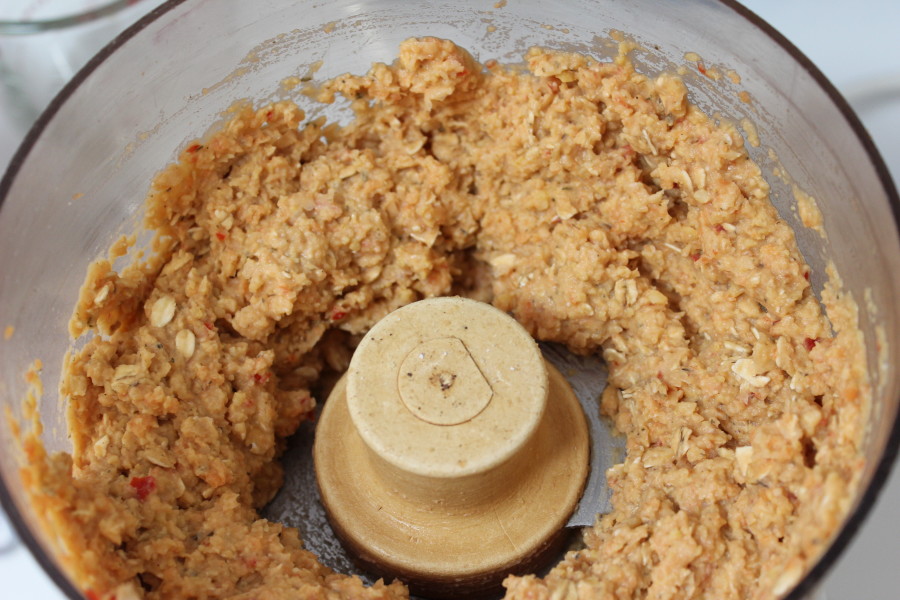 Add the rolled oats and process lightly, leaving some oat chunks. Leave in the refrigerator for a minimum of 30 minutes.
Form into patties.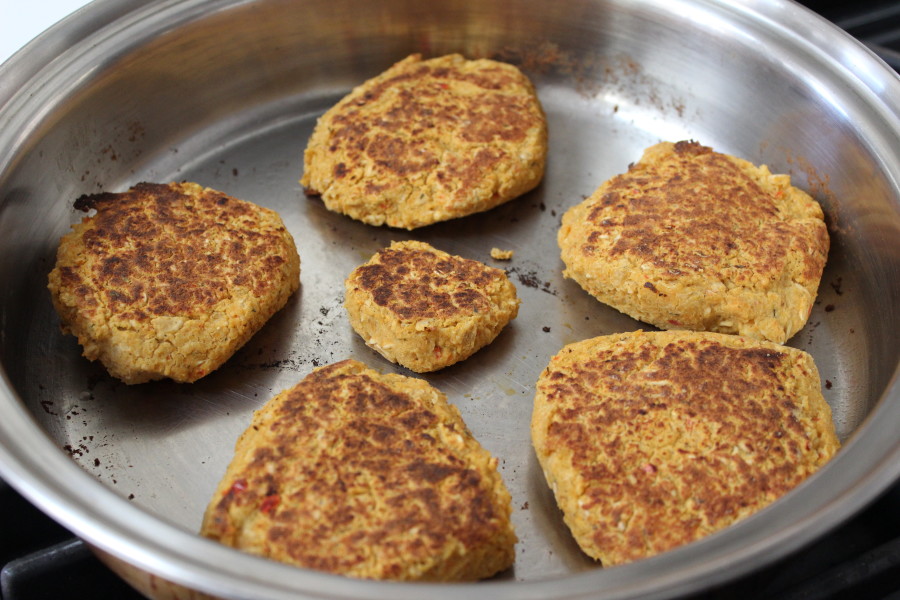 Over a medium heat, warm a large frying pan. Very lightly oil the surface with olive oil or ghee butter, and then brown the patties for about 5 minutes on each side. There should be a crisp coating on each burger.
Serve on a bun or an English Muffin or on its own, with your favorite condiments, and lots of veggies!
Makes approximately 8 burgers. Freeze any leftovers for a quick meal 'at the ready'!
Shanthi