It is easy to find a recipe for these classic cookies, but perhaps not so easy to find a healthy as well as a tasty recipe. Voila – thanks Jo Reeves for sharing this recipe with our family years ago.
Equally delicious with butter or coconut oil, these lightly sweetened cookies are also satisfying. Look at all the almonds in the recipe.
Whatever classic cookie ingredients you would like to avoid, you can have it all with this recipe. The recipe is egg-free, you can make it gluten-free with oat flour, and vegan with coconut oil – tailor it to your dietary preference.
A note on the jam – I like to use a fruit-juice sweetened jam. I find that it can tolerate the oven temperature without bubbling up like some sugary jams. Experiment, and share your experience with us.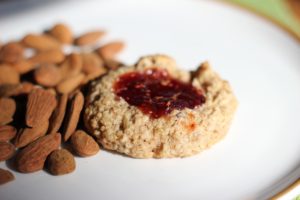 1 cup raw almonds
1 cup rolled oats
1 1/4 cups oat flour or 1 cup soft whole wheat flour
1/2 tsp cinnamon
1/2 cup maple syrup or rice syrup
1/2 cup chilled butter or coconut oil, chopped roughly
1/2 cup jam or apple butter
Preheat oven to 350ºF.
In a food processor grind almonds to a meal. Add oats and grind to a meal. Be careful not to over process. Add flour, cinnamon, maple syrup and butter at once. Pulse to combine. Wet hands and form dough into walnut-sized balls.
Place balls on a cookie sheet. Press an indentation with thumb, add jam into the space.
Bake 12-14 min at 350ºF, until golden and slightly crispy at the edges when touched. Cool on a rack.
Makes 18-24 cookies, depending on size.