These cookies were first prepared by Sharene Jones for yoga students earlier this month. Last week I baked them a couple of times. Confession: I ate multiple cookies a day, ok, 5 cookies one day. Well the title is "breakfast cookie" so I gave myself a broad indulging license!
A few adjustments have been made to the original recipe from the blog Love and Lemons. A mild level of sweetness and an unusual mix of gluten-free grains (teff and oats) with the cooked quinoa creates a unique flavor.
The carrots in this recipe were grated roughly. Hence the pieces are larger and are visible in the photo.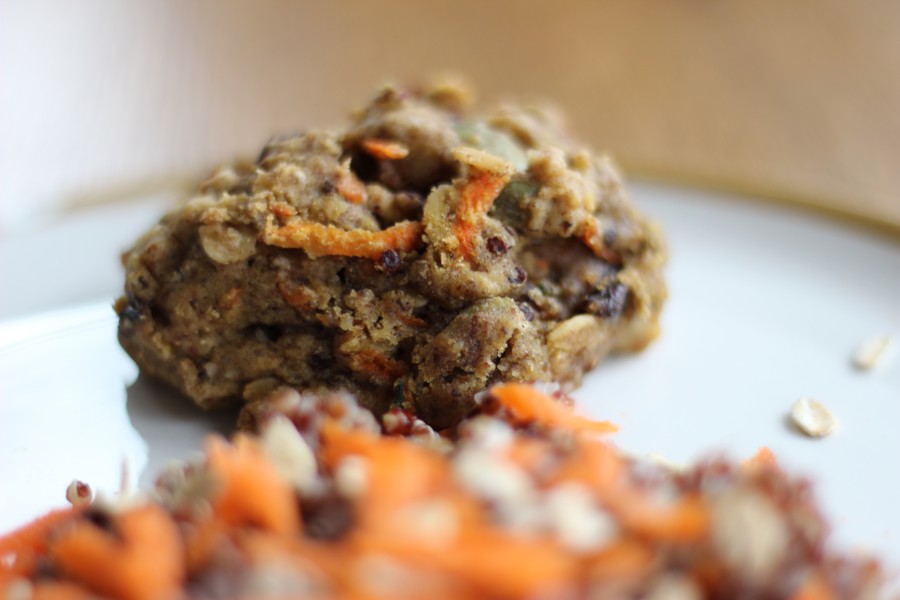 2 tablespoons ground flaxseeds + 5 tablespoons warm water
1 cup ivory teff flour
1 cup rolled oats
1/2 teaspoon baking powder
1/2 teaspoons baking soda
1/2 teaspoon cinnamon
1/2 teaspoon sea salt
1/2 cup cooked quinoa
1 cup finely shredded or coarsely grated carrots
1/2 cup almond butter
1/4 cup coconut oil, melted
1/2 cup maple syrup
1/2 cup nuts and/or seeds,  your choice (walnuts and pumpkin seeds recommended)
1/2 cup dried fruit (cranberries or raisins or dried cherries or a mix recommended)
Preheat the oven to 350º F and line a large baking sheet with parchment paper.
In a small bowl, combine the ground flaxseeds with the warm water. Set aside to thicken for about 5 minutes.
In a large bowl, stir together the teff flour, the rolled oats, baking powder, baking soda, cinnamon and sea salt. Fold in the the quinoa and then the shredded carrots, stirring until the carrots are completely coated with flour.
In a medium bowl, combine the almond butter, coconut oil and maple syrup and stir well to incorporate. Add the flaxseed mixture.
Add the combined wet ingredients to the bowl of dry ingredients and fold until combined. Stir in the walnuts, pumpkin seeds and dried fruit.
Scoop out a heaping tablespoon of batter for each cookie. Form the cookies by either rolling each cookie in the palms of your hands to make a ball, or by using 2 spoons to shape them smoothly. Place onto the baking sheet and bake for 16 minutes, or until lightly browned. Cool for 5 minutes before transferring to a wire rack.
When cookies are completely cool, they can be stored in an airtight container or frozen. Best eaten within 2 days.
Makes 20 cookies.