Making granola in your home ensures freshness while also reducing costs. Buy your ingredients with mothering Mother bags at a store that offers good quality ingredients. Measure, stir, bake and enjoy!
Now we have a
granola making video
to walk you through the process, and to enhance your understanding of good nutrition and creativity, coming from your own hands!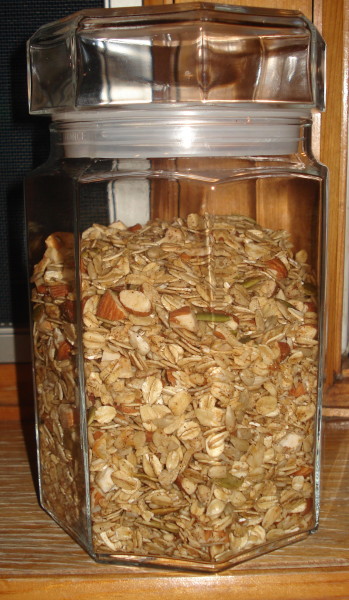 4 cups rolled oats
1 cup almonds, chopped
1/4 cup pumpkin seeds
1 cup sunflower seeds
1/4 cup safflower oil
1/4 cup maple syrup
1 rounded t vanilla
1 rounded t cinnamon
1/2 t salt 
Dried fruit (raisins, dates, apricots)
Warm the oil and syrup over low heat.
Remove and add vanilla.
In a large glass dish, such as Pyrex,
combine remaining ingredients, except
the dried fruit. Pour the liquid mixture
over the dry ingredients and stir well
to coat all grains.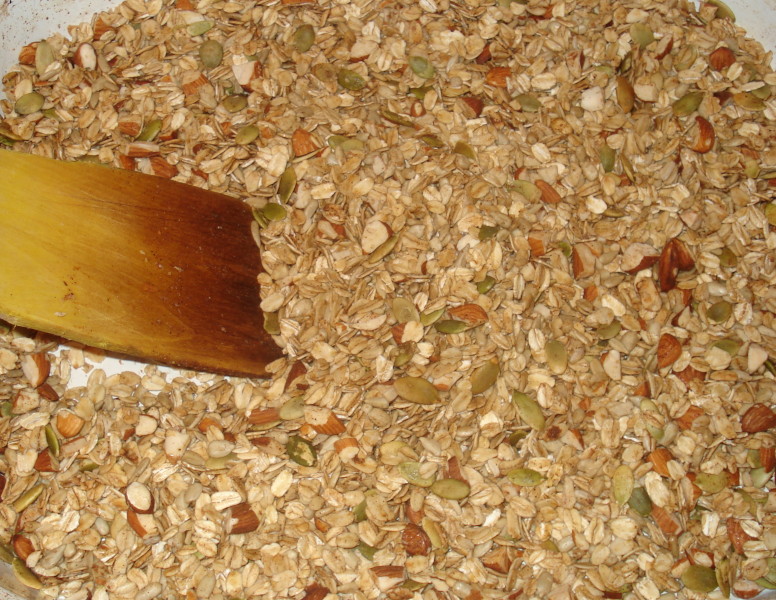 Bake in a 300ºF oven,
stirring every 20 minutes, for 45min to
1 hour.
Let cool completely. Add dried fruit, if desired, and mix to combine. Store in airtight containers. To avoid rancidity, eat within 3 weeks.
This is good as a cereal or snack. Makes approx 6 cups.