Over the Easter Holiday weekend, I made this soup as the vegetarian option for a family gathering. Although I can go on about the soup, which was amazing, I want to go on about the animals that surrounded me and my family that weekend. In particular we were surrounded by ewes (female sheep) that were giving birth during the weekend. The perfection of Nature played out each time a lamb was born. The mother instinctually licked the lamb to remove the amniotic fluid, and the lamb struggled in the first hour to stand up and then walk to the utters where they began to nurse. How is it that all of this is available without any spoken language, without machines? It just happens almost the same way with each birth.
Dip into the simple wisdom of Nature. Eat lower on the food chain to experience more of Nature's simplicity in your body, mind and soul.
1 1/2  cups chopped yellow onions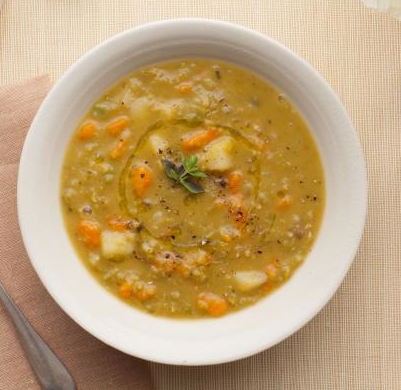 2 cloves garlic, minced
2 T ghee or olive oil
2 cups medium-diced carrots
2 cups medium-diced sweet potatoes, unpeeled
1 teaspoon dried oregano
1 pound dried split green or yellow peas, rinsed
8 cups vegetable stock or water
1 1/2 t salt
1 t freshly ground pepper
Fresh cilantro, chopped
In a large saucepan over a medium low heat, saute the onions with the ghee or olive oil until they are almost translucent (about 10 minutes). Add the garlic, carrots, and potatoes and cook for a further 3 minutes. Then add the oregano, half of the split peas and the stock or water. Bring to a boil, then gently simmer uncovered for 40 minutes. Skim off the foam while cooking. Add the remaining split peas and continue to simmer for another 40 minutes, or until all the peas are soft. Stir frequently to keep the solids from burning on the bottom. In the last 10 minutes of the cooking, add the salt and pepper. Let the soup sit for 10-20 minutes before serving. Add the cilantro just before serving.
This soup is delicious when made the day before, and then reheated.
Enjoy the fullness of the soup, in both texture and flavor. Eat for the survival of the lambs, and at the same time eat for your health. We are all sharing this Earth.
Makes 6 generous servings.