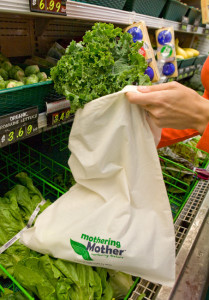 Fresh food stored in cotton bags has an opportunity to breathe, and with proper care, this can enhance the freshness and vitality of the food. By using reusable bags in place of plastic, we are immediately reducing our imprint on the earth.
Our introductory products are the small and large reusable Produce and Bulk Drawstring Bags. 100% unbleached cotton material replaces the need for plastic in the produce section and for some bulk foods. Sold in sets of 3.
You may purchase our bags online or from one of our retail partners.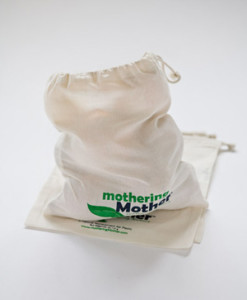 Small Produce and Bulk Bags – 
8″ x 11″
$8.29 for 3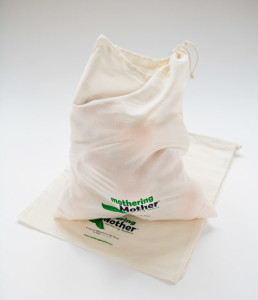 Large Produce and Bulk Bags-
13″ x 17″
$9.99 for 3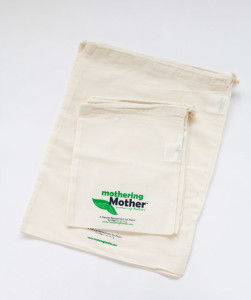 Combined Set of Drawstring Bags 
Set of 3 Large Bags and Set of 3 Small Bags
$16.99

Tare Weight
Each bag has the tare weight , the weight of the bag itself, printed on the front under the mothering Mother logo. The cashier can deduct the tare weight from the weight of your purchase before it is placed on the scale to ensure that you are only paying for the food in the bag.
Tips for Use:
The smaller bag is ideal to use for fruits or vegetables, or herbs and buns or rolls, and can be used to replace single use sandwich bags, or as a snack bag
The larger bag is ideal for lettuce, leafy greens, carrots, celery as well as larger purchases of fruits, vegetables, bagels, or rolls
In the store, place produce or bulk goods in the cotton bag, leaving the drawstring open so that the cashier may view the item(s)