Here are a selection of delicious salads created with minimal work! The colors and flavors of the vegetables did all of the work!
All of these salads were ready for my family to eat while I was out for the evening. I grabbed a container and had my meal on the go! Take out from my favorite restaurant – home cooking at its best! (Cooked Eggplant Dip)
Beet Salad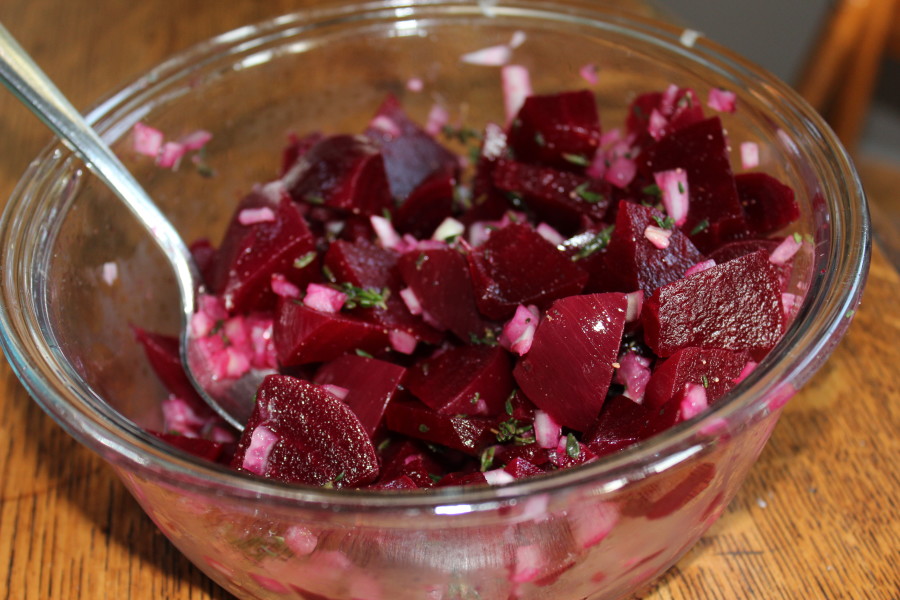 3 large beets, or 1 bunch of beets, trimmed from stems, washed, whole and skins on
1/2 cup yellow onion, diced
2 Tablespoons apple cider vinegar
1/2 teaspoon salt
Freshly grated black pepper
2 Tablespoons fresh thyme (or any fresh herb that you have on hand)
In a medium sized saucepan cover the beets with cold water. Bring to the boil and then reduce the heat to a slow simmer. Half cover the saucepan. Cook the beets until they are soft and cooked. Test for this using a skewer or a knife and insert into the beet. It should go through easily. Let the beets cool, uncovered, in the saucepan. Then put them in a covered bowl in the refrigerator to chill.* (If time is tight, peel the beets when they have cooled enough to handle. Follow the remainder of the steps. Fully chilling the beets makes them moister and is easier to peel off the skins.)
Peel the skin from the beets with your hands, or with a paring knife. The skin will easily peel off if the beets are thoroughly cooked. Don't be too alarmed at the sight of your hands! The color will disappear in a short while.
Dice the peeled beets. Put the beets, yellow onion, and herb (if using) in a bowl. Pour over the apple cider vinegar. Sprinkle over the salt and stir.
The flavor of the salad will develop further if it is left in the refrigerator for a few hours or overnight. Stir before and grate with black pepper before serving.
Enjoy simple eating from the summer bounty!
Kale Salad
1 bunch of kale, washed, remove leaves from stem
Diced yellow pepper
Grated Carrot
Fresh Thyme
Dressing
Sesame Oil
Half of a lemon, juiced
Salt, pepper
Tamari
Chop the kale lightly. Cook it quickly in a wok, or similar pan. Remove the kale as soon as it begins to wilt. Let sit for 10 minutes. Add the vegetables, really you can add any vegetables that you have on hand, and season with a herb. Pour over the dressing ingredients. Toss, and eat. If it is going in the refrigerator, cover and allow to sit at room temperature for 15 minutes before serving.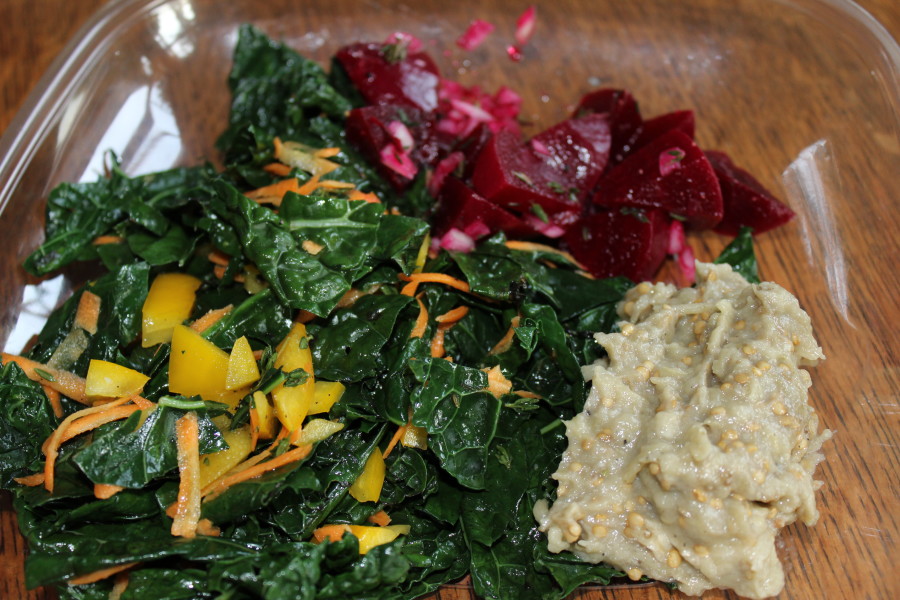 Eat well even when you are on the go. You feel better, Mother Nature feels better!
Shanthi