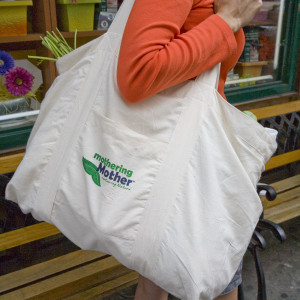 Reusable Cotton Tote
The Fresh Food Care-ier Tote is the best way to get a full shopping trip's worth of fresh produce to your table! Designed specifically to care for your fresh food shopping, its use will encourage you to increase your fresh food purchasing, making it that much easier to choose the right foods for you and the earth!
The FFC Tote is fully lined with natural cotton so you can see when it is time to wash it. Long and short handles allow you the most flexibility of use – over your shoulder or hand-carrying. For your convenience, the bag has been designed with both an interior and exterior pocket.
100% unbleached pre-shrunk cotton material ensures that even after multiple washings, your tote will retain its shape.  Sold individually.
Fresh Food Care-ier Tote
$5.99 Each
You may purchase our bags at our online store or from one of our retail partners.

Tips for Use:
Intended to "collect" your fresh produce while you shop; place in the top of your cart to hold vegetables, fruits and herbs, then simply lift right onto the checkout
Keep your other mothering Mother products in the FFC Tote as a reminder to bring to the store and mother Mother!