Another Oatmeal Raisin Cookie recipe! It seems that you just cannot have too many versions of this cookie! The ghee butter gives a unique taste to the cookies, and again I am drawn to the pumpkin pie spice for added zip to the cookies. Let the cookies rest overnight, if you can, for the flavor of the pumpkin pie spice to develop.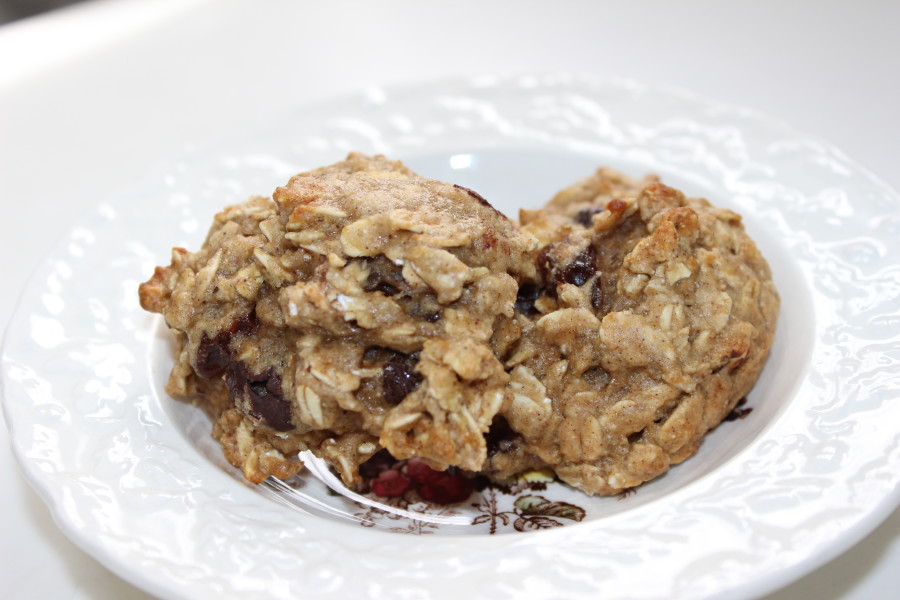 1/2 cup ghee or butter
1/2 cup sucanat
1/4 cup applesauce
1 teaspoon vanilla
1 Tablespoon water
1 1/2 cups quick oats
2/3 cup whole wheat pastry flour
2 teaspoons pumpkin pie spice
1/2 teaspoon baking soda, sifted
1/4 teaspoon salt
3/4 cup raisins
1/3 cup pecans, chopped
Preheat the oven to 375ºF. Prepare 2 baking sheets, lined with parchment paper (this is optional).
Using an electric hand mixer, or by hand, cream the ghee or butter, to soften. Add the sucanat 1/4 cup at a time and continue to cream together. Add in the applesauce, cream to mix in. Add the vanilla and water, cream to mix in.
At one time add the oats, flour, pumpkin pie spice, baking soda, and salt. Mix gently to blend together. Gently fold in the raisins and pecans, blending together but not overmixing.
Using a teaspoon, form into cookies, keeping 1.5″ between the cookies. Bake for 8 minutes, switching the baking sheets to a different oven shelf level after 4 minutes. Bake a further 4 minutes (not necessary if you have a convection oven).
Take the cookies out of the oven and let them sit for 5 minutes before moving to cooling racks. Let cool before eating
Makes approximately 24 cookies.