This marinade came into our hone on a steak. Although I never tasted it, those around me raved about the flavor, and I could smell the garlic and ginger.
The original recipe has been altered slightly to reflect a mothering Mother list of natural ingredients. The effect is amazing – this is a quick and easy way to marinate tofu to have on hand in cubes, or to marinate in slices for the grill.
Enjoy the dynamic flavors and vibrant effect of simple eating!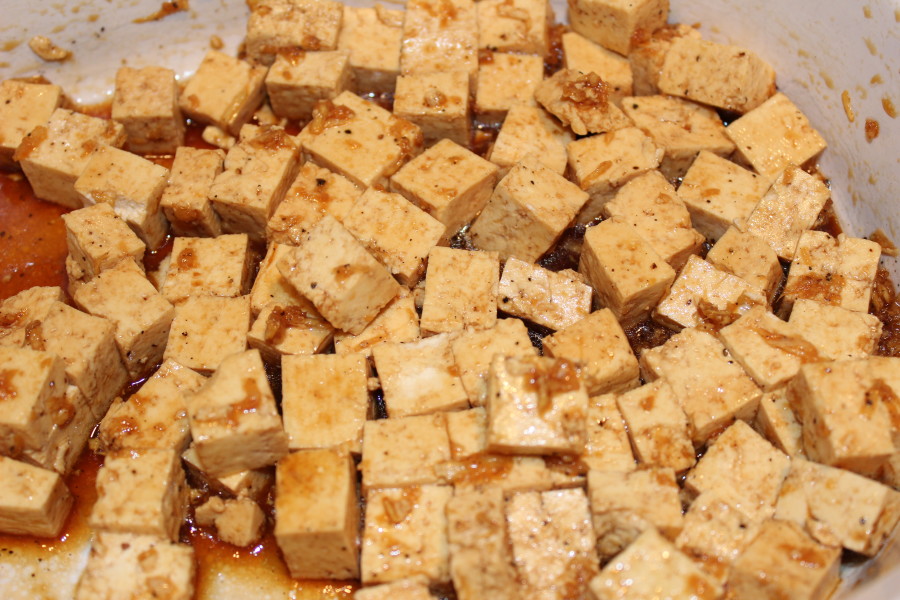 1 t sucanat (natural sugar)
1 t freshly grated ginger
1 clove garlic
¼ t black pepper
1 T sesame oil
2 T water
2 T tamari (low-sodium)
1 block extra firm tofu
¼ cup sesame seeds
Rinse the tofu under running water. Shake off excess water and wrap the tofu loosely in a kitchen towel. Drain the tofu of extra water by placing it on a wooden board and putting a plate on the top. Add weight to the plate to add pressure for the tofu to give off water. Sometimes the item on the plate falls onto the counter so choose something shatterproof! Let drain for 20-30 minutes.
Slice the tofu in either large lengthwise pieces for grilling, or into cubes. Mix together the marinade ingredients and pour over the prepared and cut tofu. Cover all of the tofu. Marinate for 8 hours, turning from time to time. Keep in the refrigerator.
Grill prepared tofu slices and enjoy! Cubed tofu is ready to eat with the marinade, or it can be toasted in a hot oven or in a frying pan.
After cooking, sprinkle lover lightly toasted sesame seeds for additional texture and flavor.