In Toronto there is a groovy restaurant that calls these MCT Bars – Medium Chain Triglycerides. This recipe is a blend of ideas and talents from Impact Restaurant, Jodi Arnoldi and mothering Mother.
Whatever chain of fats these are, they are delicious! The unusual texture and flavors may catch you off guard. You may like these more than you originally imagined, and as a result may be finding ways to justify eating them at any time during the day.
Keep an eye out for a blog post on Why The Coconut Oil Craze.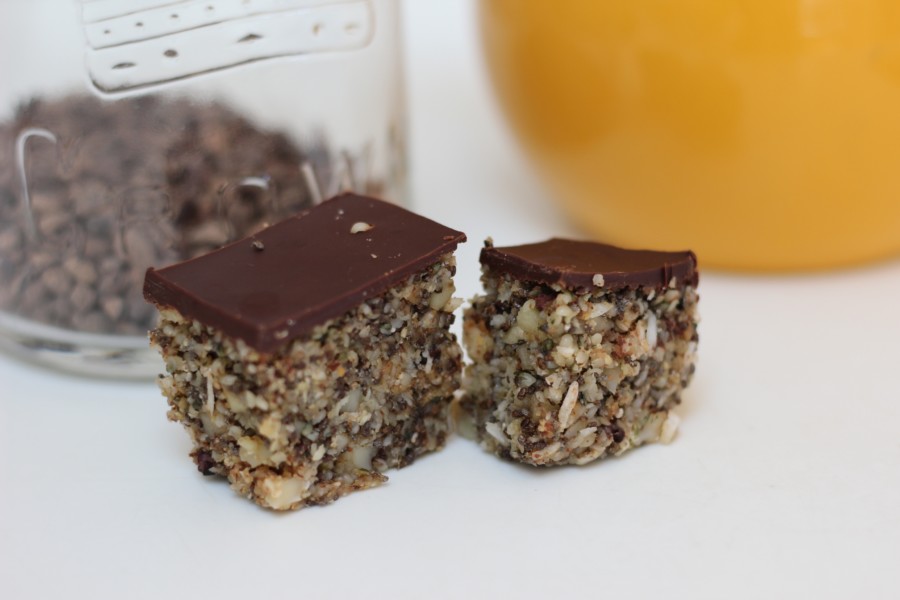 1 cup hemp seeds, also called hemp hearts
1/2 cup chia seeds
1/2 cup shredded coconut
1/2 cup slivered almonds, lightly chopped
1/4 cup cacao nibs
2 Tablespoons coconut oil, melted
1/4 cup cold coffee
1/4 cup honey, preferably runny
1/2 cup almond butter
Topping
1/2 cup dark chocolate chips (60% or darker)
2 teaspoons coconut oil
Combine the hemp seeds, chia seeds, coconut, almonds and cacao nibs in a medium sized bowl. Combine the coconut oil, coffee and honey. Add the combined liquids all at once, along with the almond butter. Fold over and press any almond butter lumps with the back of a spoon to disperse it evenly throughout the mixture.
Once well mixed together press into an 8″ x 8″ pan. Press down to compact the ingredients together, and smooth over the top with a dull knife.
Cover and refrigerate for 2 hours.
Combine the chocolate chips and coconut oil over a very low heat, or set in a basin of boiling hot water. Stir gently together as the chocolate starts to melt until it is a smooth liquid. Do not overheat or boil. Pour the melted chocolate mixture over the chilled seeds and nuts. Make the top smooth with a non-serated knife and set back into the refrigerator.
After 30 minutes score the chocolate with cutting lines.
When it is time to serve cut through the chocolate and into the bars. It is recommended to let the cut bars sit at room temperature for 10-15 minutes before eating. This allows the chocolate to soften and the flavors of the bar to expand.
Makes approximately 25 bars, depending on how you slice them!