Who took that photo? It is blurry! That would be me, trying out a new lens and needing a glasses upgrade.
Let's start out by adding the word 'fruity' to the title of this soup. This expanded recipe comes originally from the Sundays at Moosewood Restaurant cookbook.
Rather than adding fruit juices, which I never have on hand, this recipe has the fruit cooked in, or added at the end of the puree process.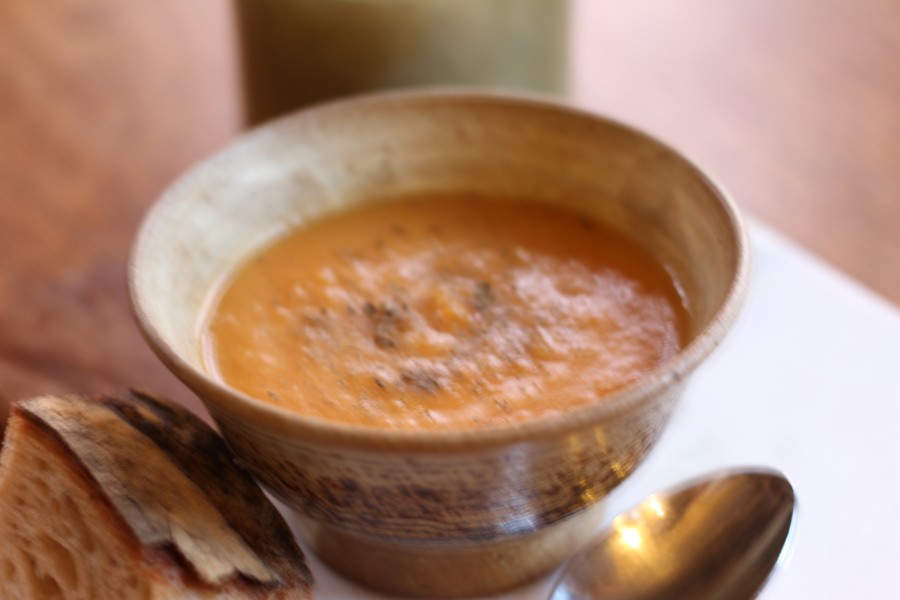 1 medium to large butternut squash (about 2 cups cooked pulp)
1 large Spanish onion, chopped (about 3 cups)
2 tablespoons coconut oil or ghee
1/4 teaspoon nutmeg
1/4 teaspoon cinnamon
1/4 teaspoon dried thyme
2 bay leaves
1 medium carrot, roughly chopped or sliced
2 celery stalks, roughly chopped or sliced
2 cups stock and reserved cooking liquid
2 unpeeled apples, diced
2 tomatoes, diced
1 teaspoon salt
Cook the squash by cutting it in half lengthwise and scooping out the seeds. Place the 2 squash halves cut side down in a large frying pan with a good 1/2″ of water. Bring to the boil, cover, and reduce to simmer. Depending on the size of the squash it will cook in 20-30 minutes. Test for doneness by pressing lightly on the thickest part of the squash. If you finger leaves a slight indentation then the squash is cooked. Let it cool in the pan, either covered or uncovered. Save the cooking water. When able to handle the squash gently scoop out the cooked flesh, being careful not to scoop up the skin. Measure and put aside.
While the squash is cooking, sauté the chopped onion in the oil until it is translucent. Add the nutmeg, cinnamon, thyme and bay leaves, cooking for a further couple of minutes. Add the carrot, celery apples and tomatoes, stirring with the seasonings for a minute. Then add the vegetable stock and any reserved squash cooking liquid. Bring to the boil, add the salt, then cover and simmer until the carrots, apples and tomatoes are tender. Add the cooked squash and let the soup sit for a good 15 minutes.
Remove the bay leaves.
In a blender or food processor or using an immersion blender, lightly purée the soup. If the soup is too thick add additional stock. Gently reheat, check for seasoning and adjust.  When warm enough turn off the heat and add the juice of 2 freshly squeezed oranges.
Makes 4-6 servings.