Yes, it's true, I did go on a black bean terror for a week or two! When I cook up a batch of beans they are calling out to be used up. And I surrendered! Oh, nice yoga.
To bring additional color to this dip add finely chopped red pepper, chopped cilantro, or both. The pumpkin seeds give some color and texture as well. Some like it hot, and that is how this dip turned out. Just dial down the chipotle powder if it is too much for you.
On this website you will find a video teaching you How To Prepare, Cook and Store Beans.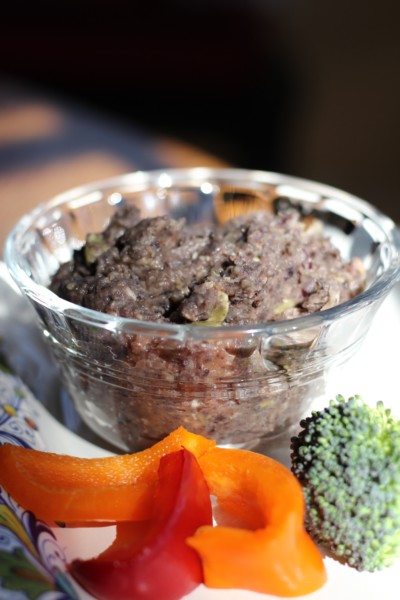 1/4 cup pumpkin seeds
2 cups black beans (1-16 oz can), drained and rinsed
1 large garlic clove, crushed or finely chopped
1 green onion, lightly chopped
1/4 cup red onion, diced
1/2 tsp chipotle powder
1 tsp ground cumin
Juice of 1/2 lime
Salt
To the bowl of a food processor add the pumpkin seeds and mulch lightly. Add the black beans, garlic, green onion, red onion, chipotle powder, cumin, lime juice and salt. Process on and off, stopping to scrape the sides down. Taste for seasoning and adjust as needed.
This dip is delicious with fresh vegetables, rice crackers, or as an accompaniment to salad or  cooked veggies. Diced avocados are a wonderful complementary flavor and texture.
Makes about 2 cups.