It was the Sunday before Thanksgiving Day and I was preparing to do my weekly shop for regular household groceries. As usual it was with anticipatory dread that I look forward to the trip. How could I get the most of all of the regular staples that my family likes for their lunches and snacks as well as my plant based healthy greens, legumes etc? And I was trying to buy bulk foods so as to limit the amount packaging and processed foods. After much hemming and hawing I decided on Whole Foods Market. I thought this choice would fulfill the bulk shopping, which was my primary mission, as well as daily staples and dairy.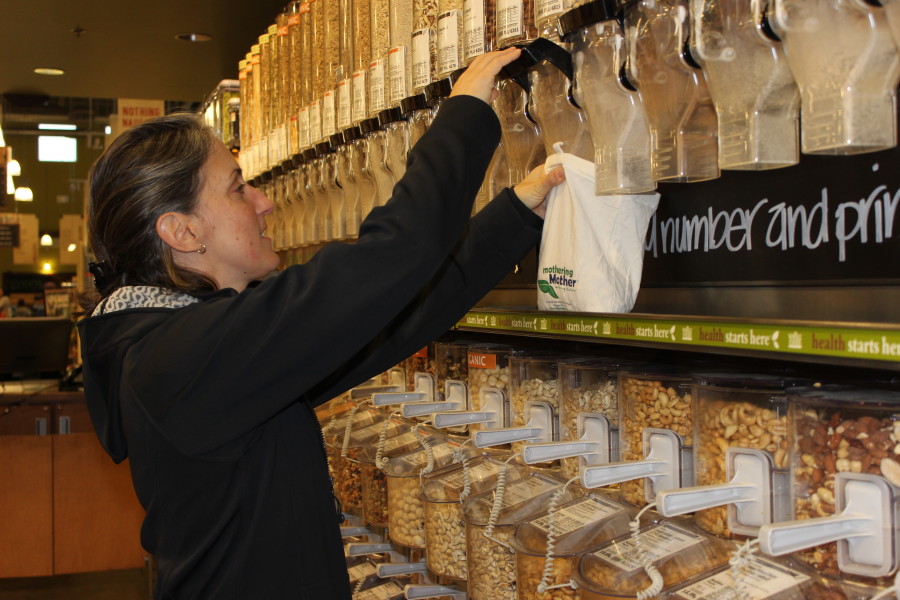 Once the destination was determined I gathered my mothering Mother bags and made a list. I was hoping to get the ingredients to try a new vegan cheese-less mac and cheese. As this was only my second or third foray into bulk shopping, I made a careful list of the things I wanted to purchase. Without a list I found that on previous attempts I became easily overwhelmed and paralyzed by the unfamiliar and vast choices. In the past this would have left me standing in front of the bins scratching my head and buying too much of things I do not understand/need/like, or too little of what I wanted. So I used my recipe as a guide to purchase exactly what was required. I tried not to stray from that mission. As I get more comfortable with the contents and ingredients in those bins I will be able to purchase more things by instinct but for now I try to k.i s. s.  Keep it simple sweetie.
Now, I might also like to mention that I had my tween-age daughter with me. She braved the trip with me with the promise of a visit to check out the nearby H&M store. I might also disclose that I had to be back within 90 minutes as she was meeting her friends to go ice-skating. As you can probably imagine the challenge was becoming heightened. And I was not sure we would be up to meet the challenge much less come out victorious. And so we set off…
I decided to do the H&M shopping first to ensure cooperation at the grocery store. This proved a wise strategy. We started in produce but quickly and delicately made our way through the pre-Thanksgiving crowds to the bulk section. With our cart piled high with greens of all kinds, my daughter reluctantly took over the navigation of the vessel. I endeavored to sort through my mothering Mother bulk sacks and choose the correct size bag for each item. I opened each sack, filled it and made notation of the plu code on my smart phone. At this point the pressure was high as time was ticking and my daughter, while hanging tough, was beginning to weary of my new ritual and was cooperative merely as a way of getting me out of there faster. One must move deliberately and calmly throughout this process or it could be a big mess. But we managed. With the pasta as the last item to go in to the largest size bulk bag, we headed to the check out.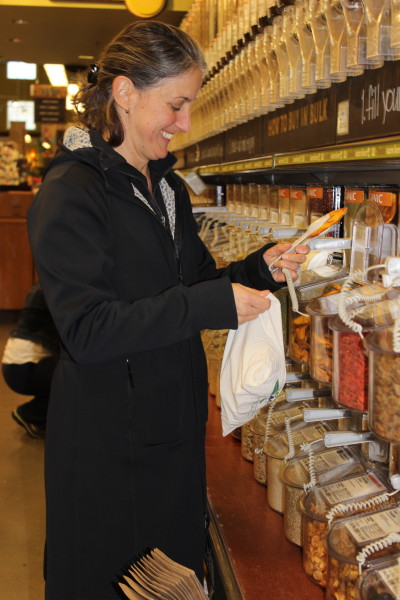 While in line my daughter remembered that we were in need of cereal. She went to the aisle to make her selection. When she came back she let me know that she chose the least healthy option they had by selecting a well know and advertised brand with a cartoon mascot. But I did not object as we are all on this journey together and we must come to it in our own way.